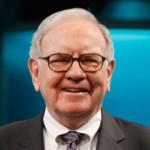 Do you know that billionaire Warren Buffett is keen on communication skills? The man with a net worth of 53.5 billion, second richest in the United States, and fourth richest person in the world admits that at one time, he was absolutely terrified of public speaking. But, he says, "I knew I had to do it." In this interview with Value Investors Portal, he tells the interviewer what he did to overcome his fear.
Searching on the internet, we can find countless articles and videos that show Warren Buffett is really keen on communication skills. In a presentation to business students at Columbia University, he said, "If you improve your communication skills, I guarantee you that you will earn fifty percent more money over your lifetime."
While investors and investor 'wanna-be's' flock to hear his words on how to make more money, we'll never know how many students took Warren Buffett's words on communication skills to heart after graduation. Whatever their chosen profession, being able to communicate effectively will be a major factor in achieving success. The fact that one of the most powerful men in the world, Warren Buffett is keen on communication skills, should speak volumes to anyone wanting to advance their career.
It's true that technical skills can get people through the door and into the office, but it will be their communication skills, their openness to learning, ability to embrace change, connect and interact with others that will determine whether or not they get to stay. Far too often we get wrapped up in glitzy gadgets that promise faster, easier, unlimited possibilities. However, all of it is worth squat if people are left out of the equation, because it's the people who communicate those possibilities with each other that make technology work.
And, when it comes to trust, leadership, persuasion, authenticity, integrity and team building, if you can't demonstrate and communicate these in a compelling manner through your speaking and your presentations, who will ever know? American businessman and former CEO, Lee Iacocca said, "You can have brilliant ideas, but if you can't get them across, your ideas won't get you anywhere."
To achieve success in any area today, be it personal or professional, capable and competent communication skills are a must. Warren Buffett isn't the only one keen on communication skills. My driving purpose at Art of Speaking for Success is teaching the fundamentals of communication and how you can effectively apply these skills to advance your career.